WOMEN IN STYLE | Meet Alissa Herman, Entrepreneur, Mother, Wife & youngest of the four 'Coulton Girls'
Written by: Swanky
Meet Alissa Herman, Entrepreneur, Mother, Wife, and youngest of the four 'Coulton Girls'.


We sat down with Alissa and learnt all about her passion for finance, her tips for investing in a good wardrobe, and how she started 'Teach Me Money', a platform that helps educate everyday people about money.
Alissa, tell us a little about yourself...


The youngest of the four 'Coulton Girls' and was raised near North Star in northern NSW. I'm a mother to 3 children, Heidi 8, Sam 7 & Josie 4. My husband John and I are raising our family in Emerald in Central QLD. I am an extroverted human who loves raising my family in regional QLD due to the great community and 'easiness' of rural living.
My favourite mantra for Emerald is "you can be running late and still get there on time". My favourite place in Queensland is Mooloolaba (not in January when it is crowded!). I can't wait for the borders to re-open so that we can take the family to Fiji.
I've worked in finance all over QLD with major banks specialising in agri-finance.  I currently work as a finance and mortgage broker here in Emerald, I created Teach Me Money as a means of providing and starting a dialogue around finances and borrowing money to allow more people to access finance.
How would you describe your style?


Unfortunately, my wardrobe styling doesn't come easily to me. I struggle to put pieces together in an effortless way as some women can do, for example, my sister Shona has a great eye for fashion.

I actually get really overwhelmed when shopping for clothes, forgetting what is in my wardrobe and what will work together. As a result, I've learnt to buy the whole outfit when making a purchase, both the top and the bottom as they are made to go together and compliment each other.

I've learnt not to buy things just because they are on sale! I like classic outfits that make me look polished, for example, I love wearing a blazer in winter to give a casual outfit a lift. Although I live regionally, I do work in a professional industry and I like to dress accordingly.

Now that I am nearly 40, I have started investing in my wardrobe with more consideration so that I will have pieces that last into the future.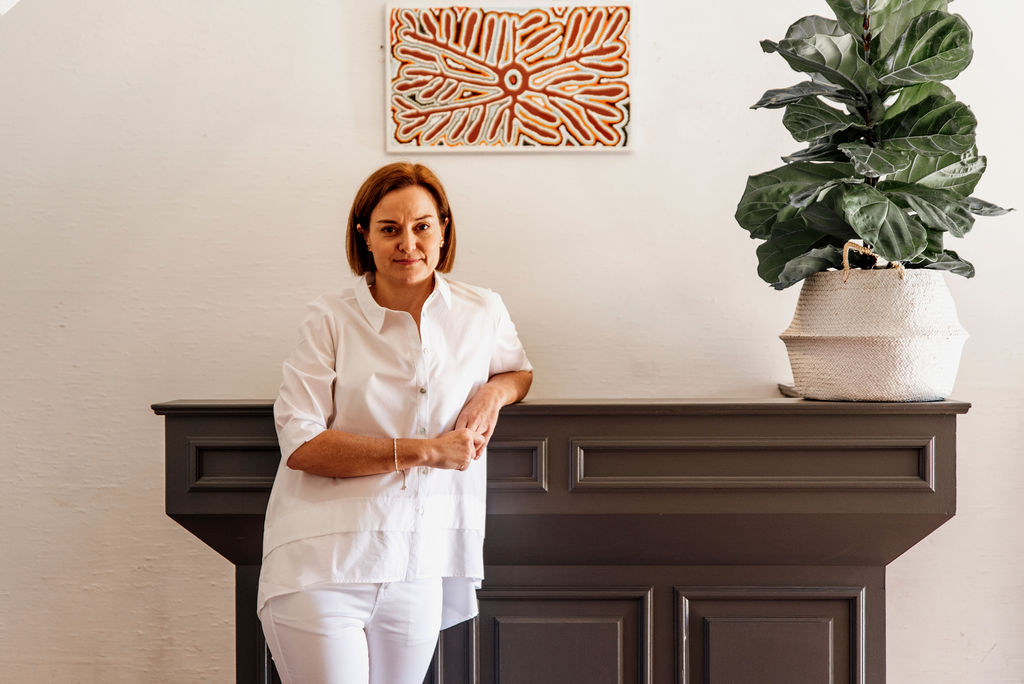 Tell us what inspired you to start Teach Me Money?


I've worked in finance for 19 years and I love it. I love putting deals together and giving people the opportunity to grow, their businesses & their wealth through finance. However, I realised that not all people understand or enjoy finances and so much of it is a mystery.

People don't understand how the decisions they make, credit cards, personal loans etc can have such a big impact on their ability to buy a house in the future or get ahead. They don't understand how and why the banks make the decisions that affect their lives. It is usually when people have made a mess of their finances that they start looking for help.

Finance and money is a taboo subject, we don't discuss it with our friends or families for fear of humiliation and embarrassment. But in my line of work, I've seen it all, the good and the bad and I can give people an honest and objective opinion on how to make improvements.

I am not a financial planner and everything I give to my clients you can find on the internet if you look hard enough and know what you are looking for.

If we can all do better with our money, we will all live a more enjoyable life without financial stress and in turn, our communities and our whole country will be economically better off.
You wear many hats, mother, wife, daughter, sister, how do you juggle all of these roles while running a business?


"I juggle them badly!! I used to work like I didn't have kids and mother like I didn't have a job. It was a disaster! Thankfully I have gotten better at letting the small things slide. My house isn't as clean as it should be & the hedges aren't as trimmed as I'd like.

In the last 6 months I have started my day with a 10-minute meditation, and those that know me well, know that this is an extraordinary step away from tradition with me. I have found that this keeps me somewhat more focused and calm during the day. I exercise at least 3-4 times per week, which keeps my head clear and my emotions in check.

I like to meal plan each week, I am strict on all things going into the calendar and I say no to lots of things so that we don't get overwhelmed with 'busyness'. We used to use nannies to help us with the home front but recently have dropped the home help and John and I manage between us with the occasional need for a babysitter if I must go to Brisbane for work.

I have a husband who is excellent at home chores, he washes up, does lunchboxes and will do the washing, all without being asked. Whilst I carry most of the mental load of the household, I certainly wouldn't be doing this without his unwavering support.

We have a fortnightly cleaner and I've recently invested in Robert – my robot vacuum cleaner who vacuums and mops – a serious life-changing investment for me!! As for my parents & sisters, I try to visit Gundy at least once per year so that my children can spend time with their grandparents & cousins and I can reconnect with my family and see the progress they are making in their lives."
Imagery shot by The Farmers Friend @the_farmers_friend